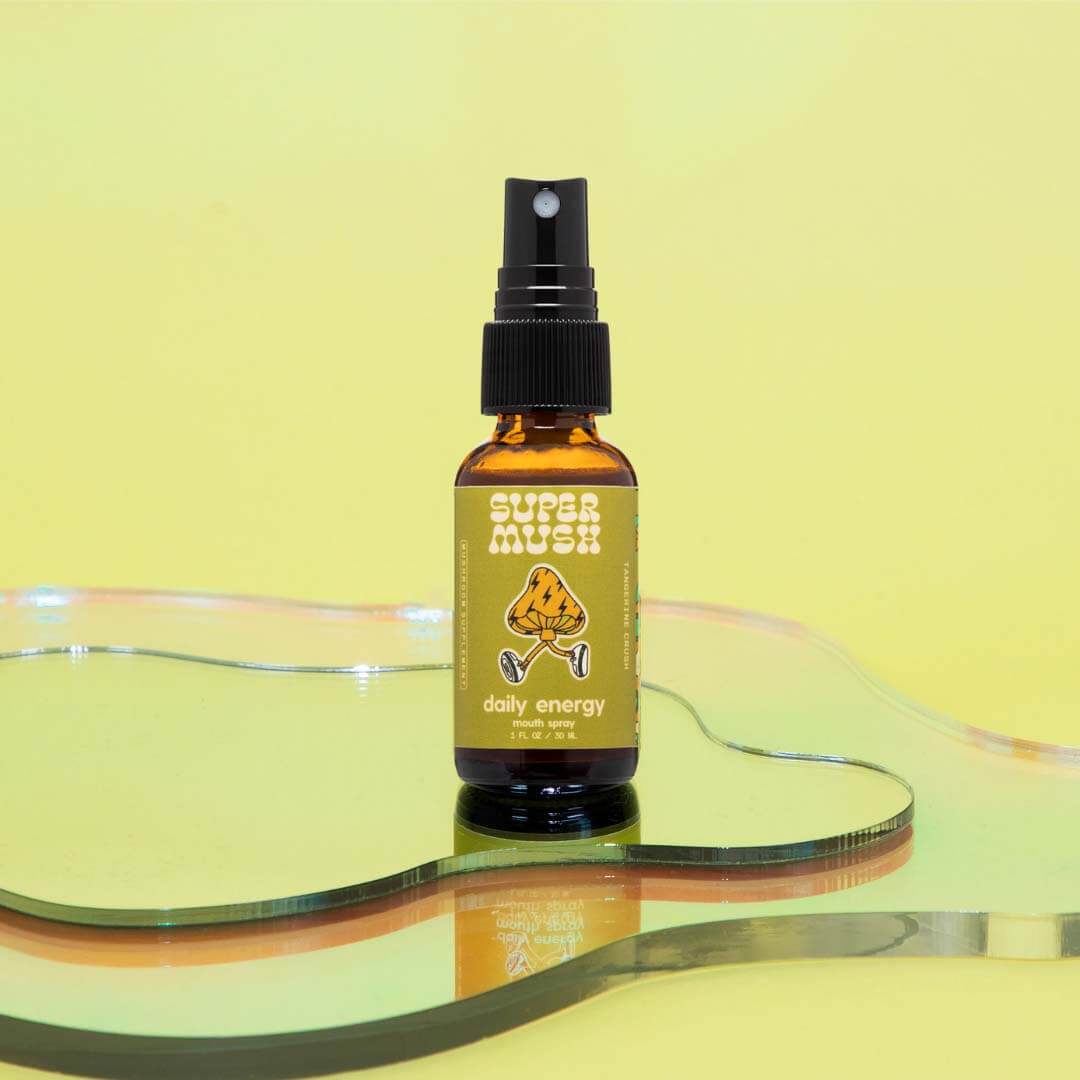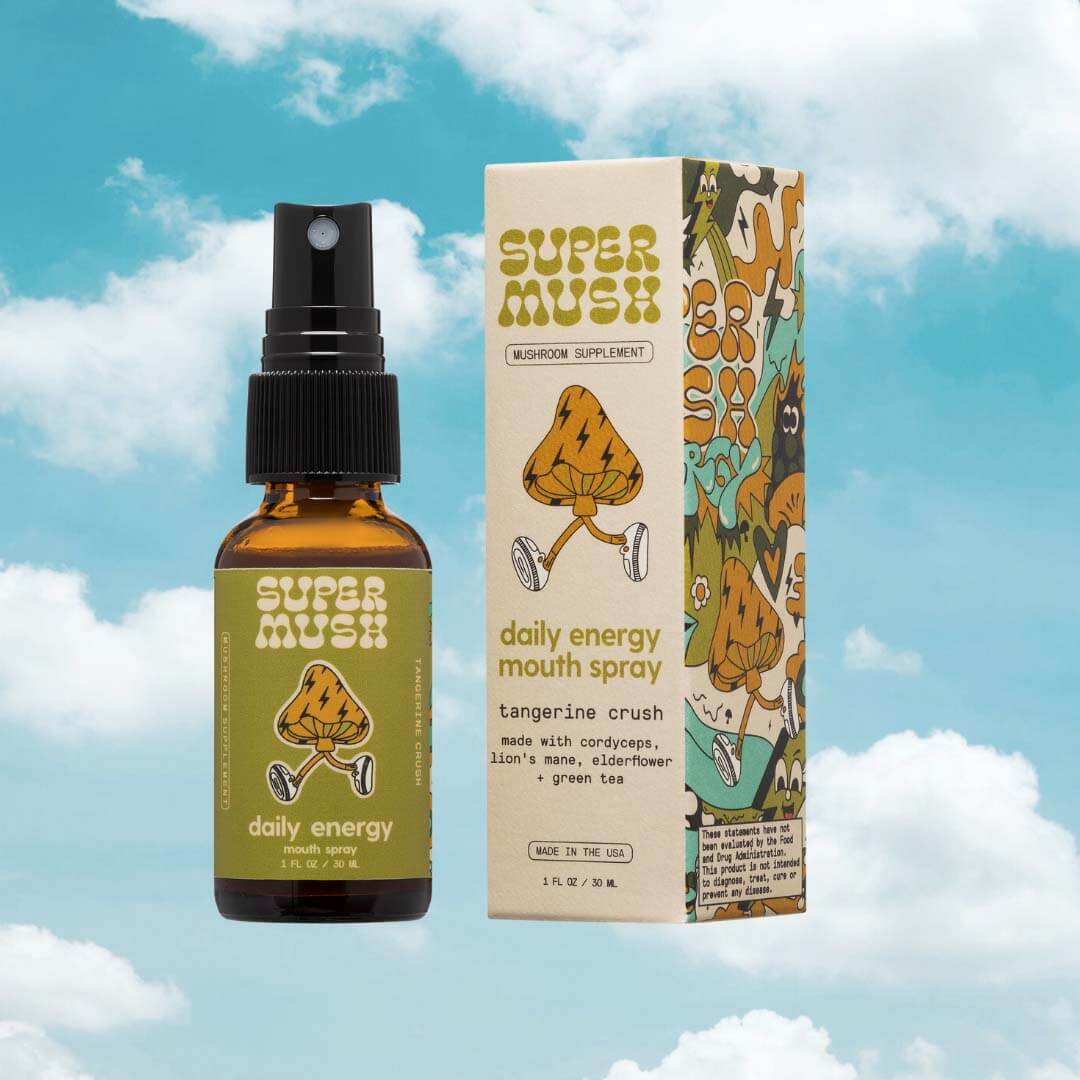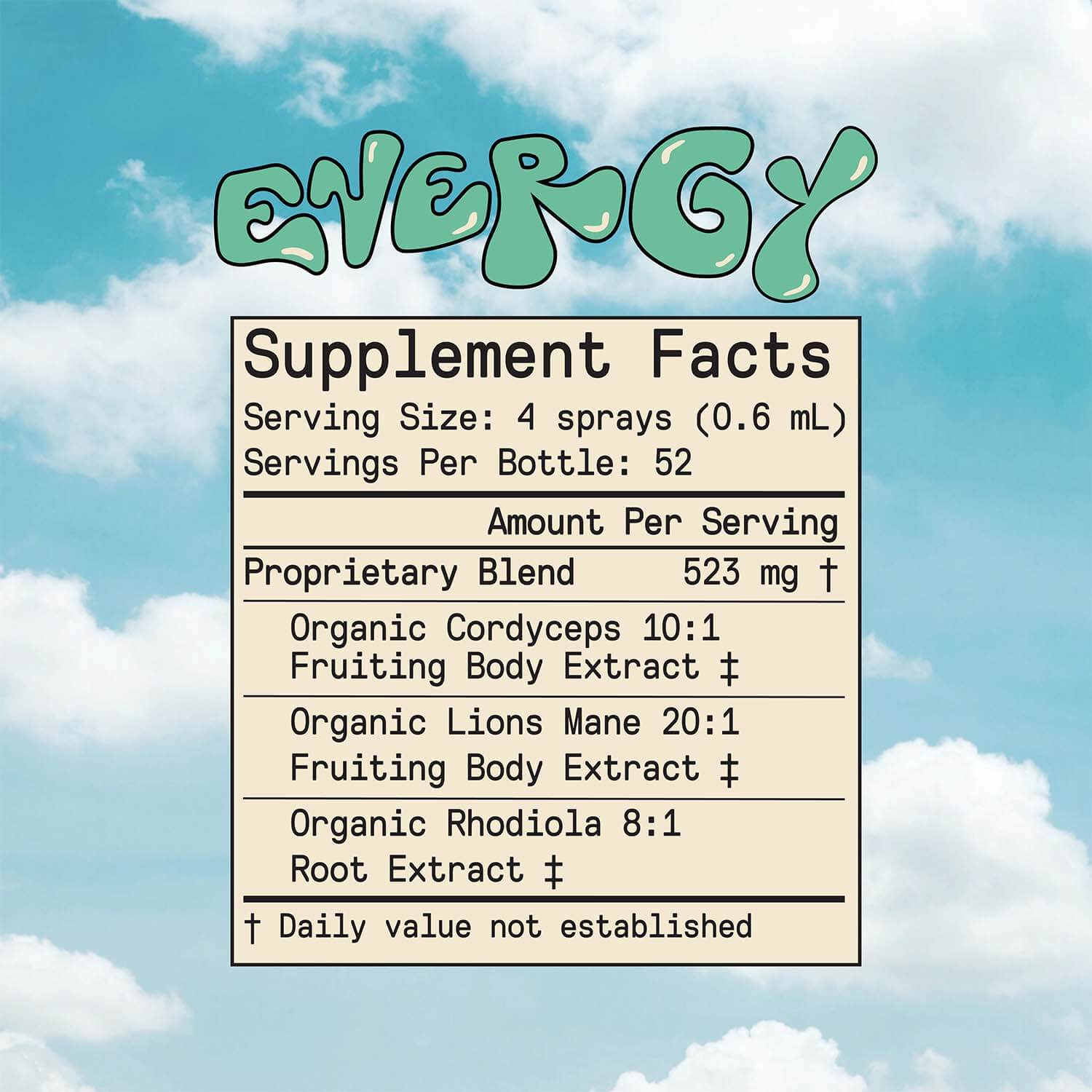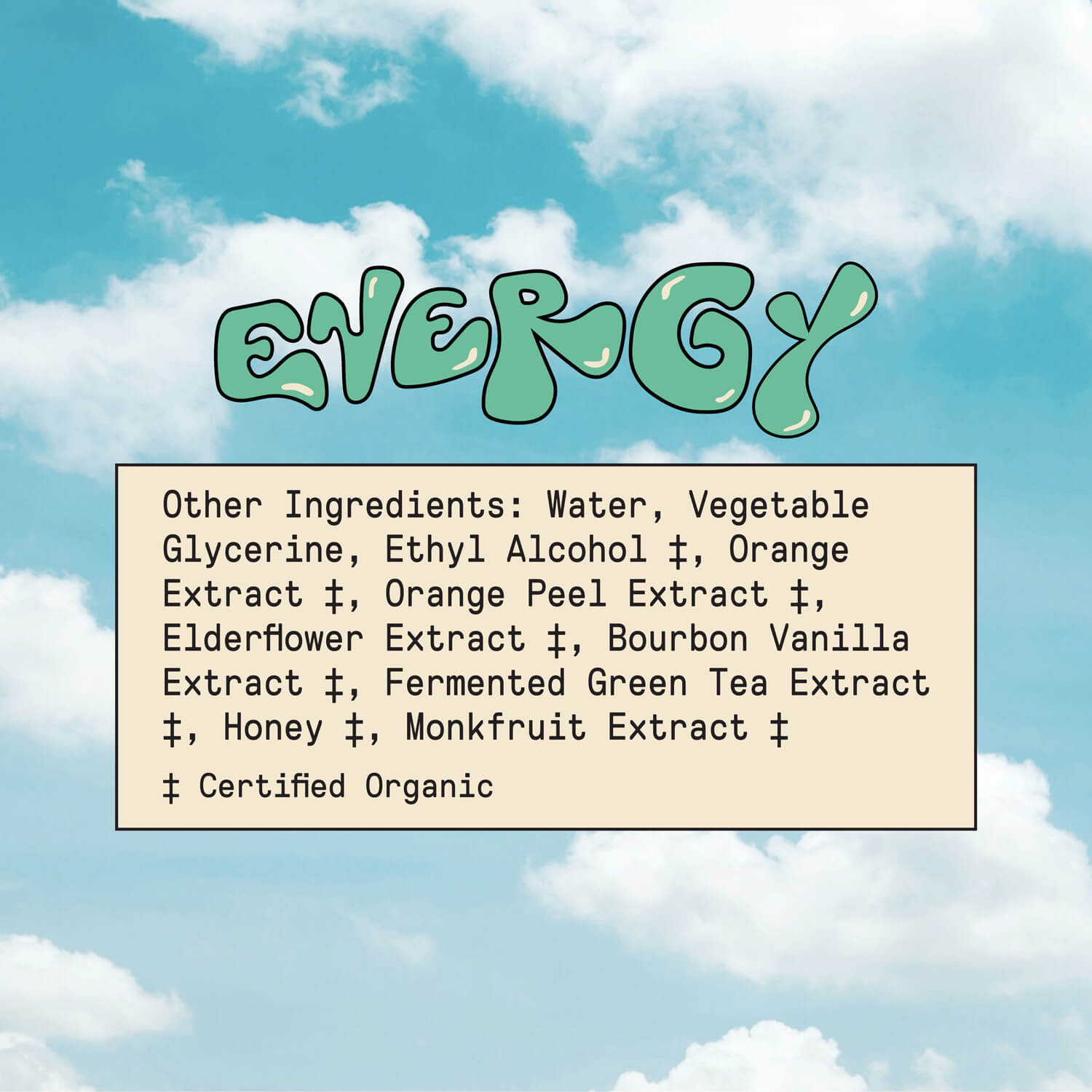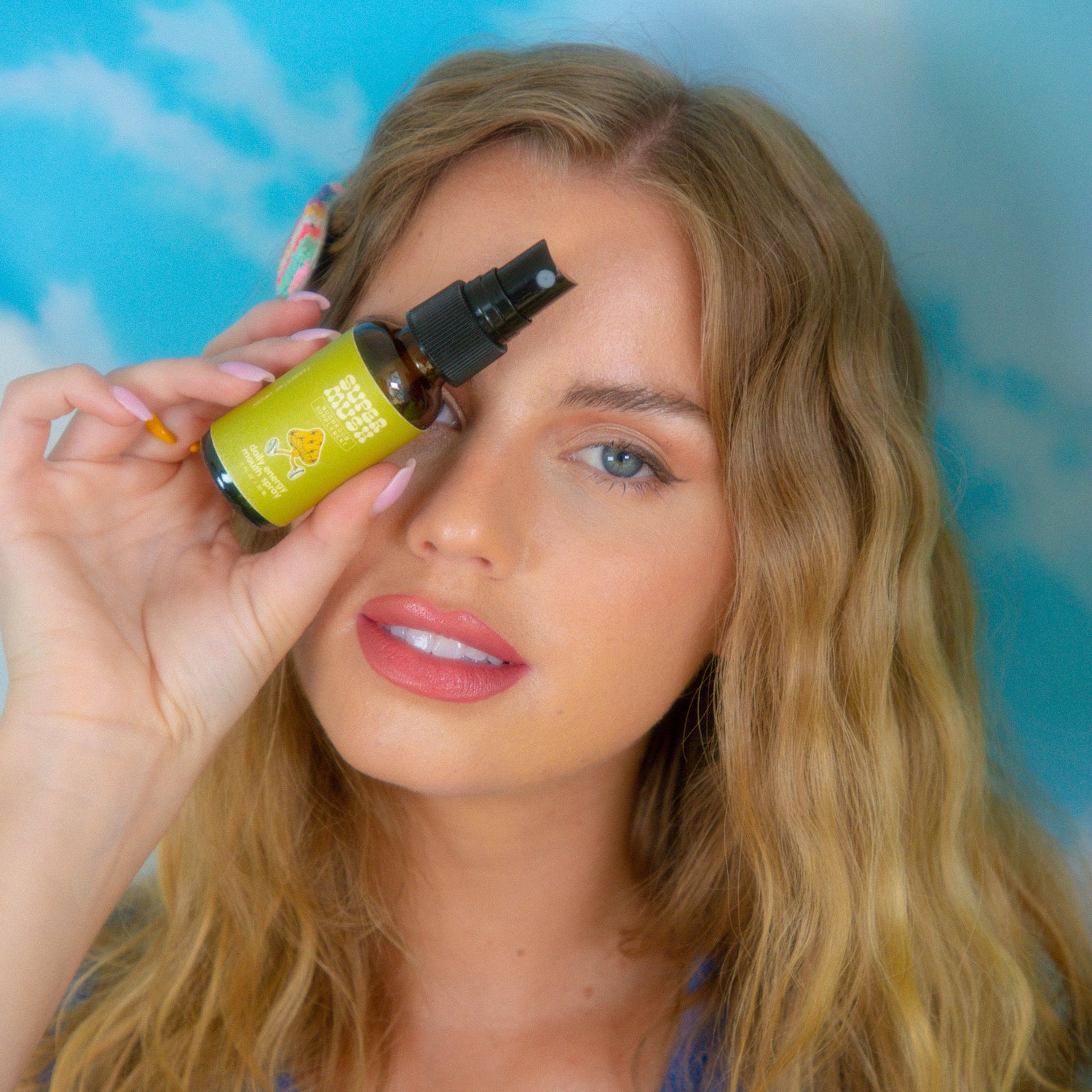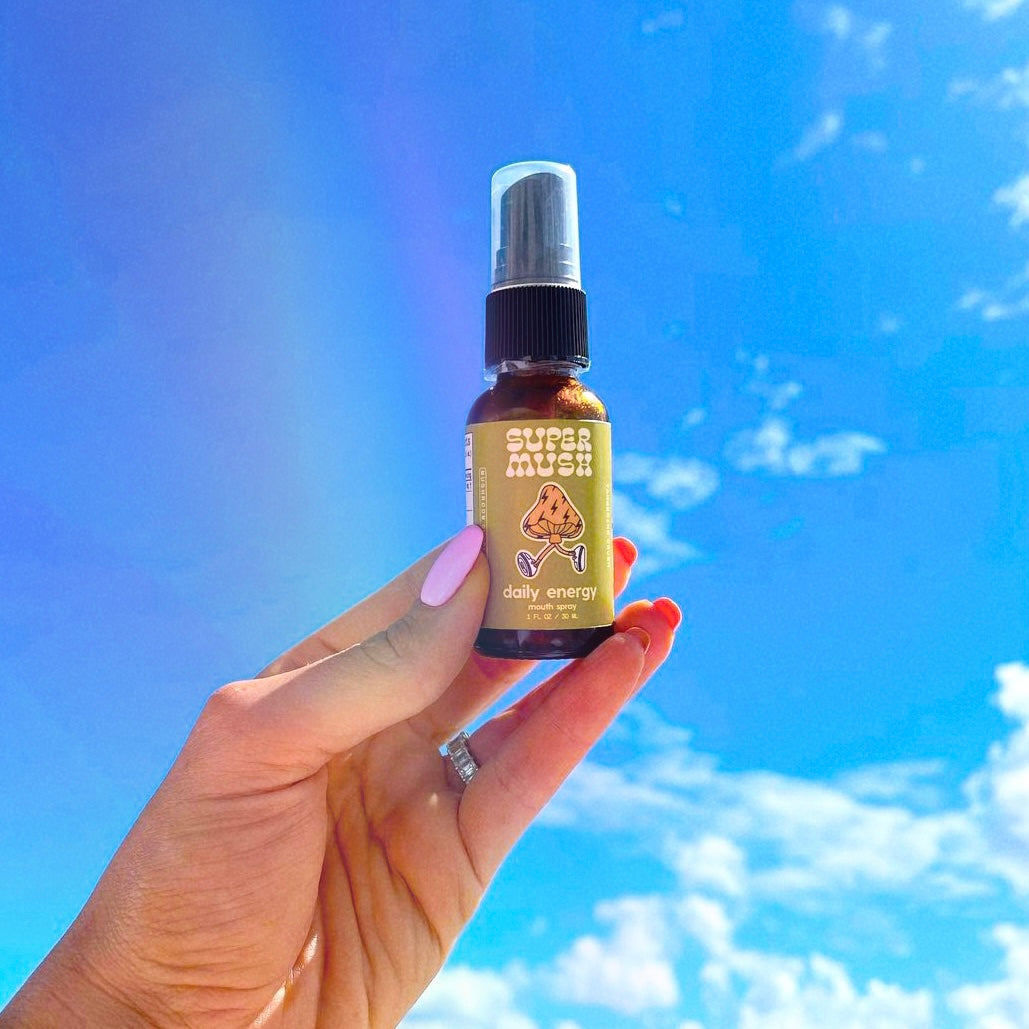 I taste like a mouthwatering, perfectly chilled tangerine crush on the first day of Summer. Your daily dose of mushrooms for $.50. Each bottle lasts ~1 month. 0 calories and 0 sugar per serving.
Cancel or change your subscription anytime
the journey on your tastebuds
ON THE NOSE
honeysuckle, candied tangelo, under ripe pear

ON THE PALETTE
offers a tart explosion of citrus that quickly melts into a soft juicy orange peel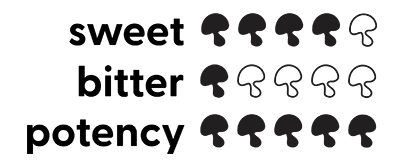 Proprietary Blend: 523 mg †: Organic Cordyceps 10:1 Fruiting Body Extract ‡, Organic, Lion's Mane 20:1 Fruiting Body Extract ‡, Organic Rhodiola 8:1
Other Ingredients: Water, Vegetable Glycerine, Ethyl Alcohol GNS 190 Proof ‡, Organic Orange Extract ‡, Organic Orange Peel Extract ‡, Organic Elderflower Extract ‡, Fermented Green Tea Extract ‡, Organic Bourbon Vanilla Extract ‡, Organic Honey ‡, Organic Monkfruit Extract ‡
‡ Certified Organic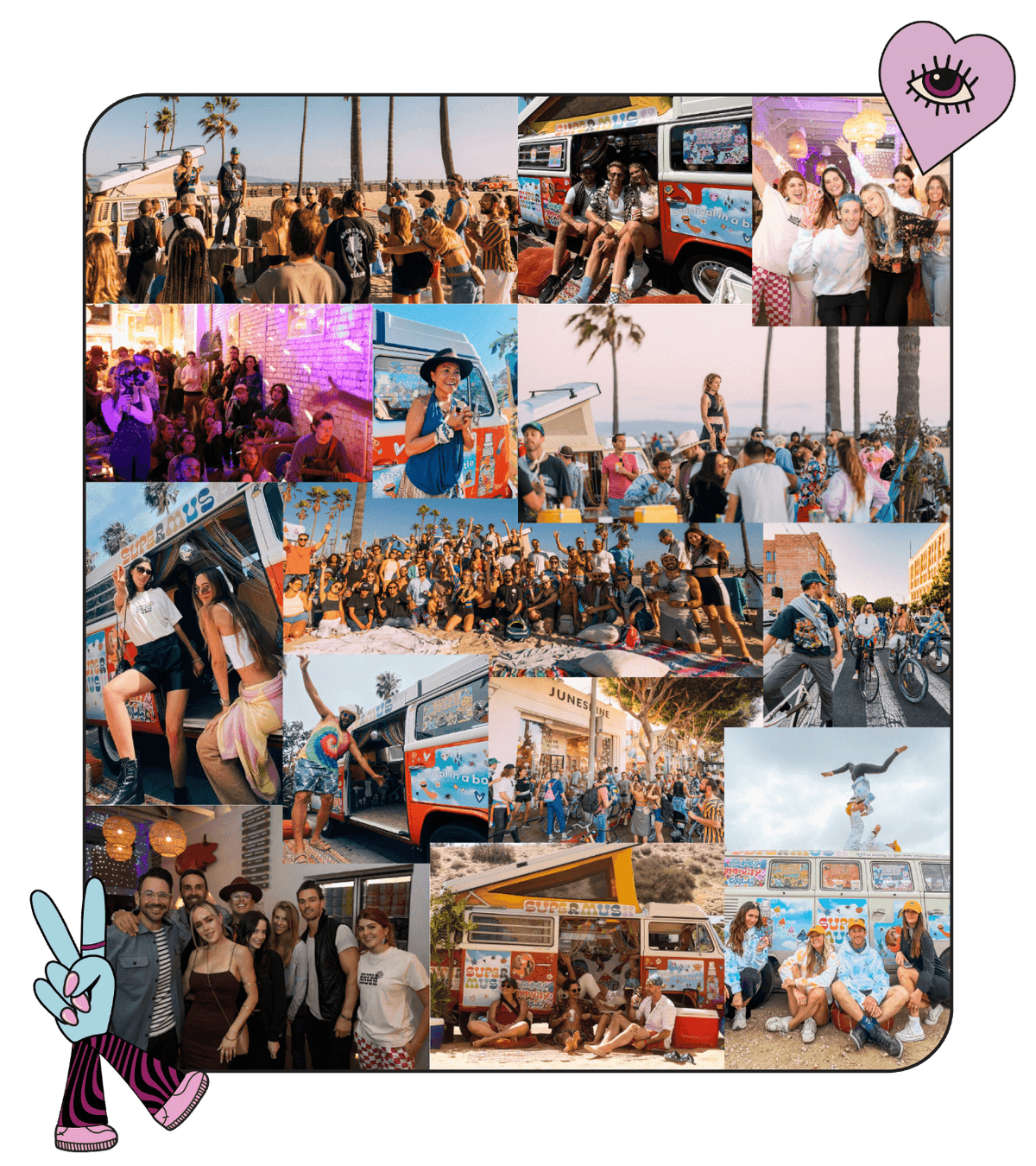 Subscribe to monthly SuperMush deliveries.
Perks
Exclusive access to SuperMush community chat
Free SuperMush swag
Merch drop first access
Event/festival invites
Mushroom education
New product taste testing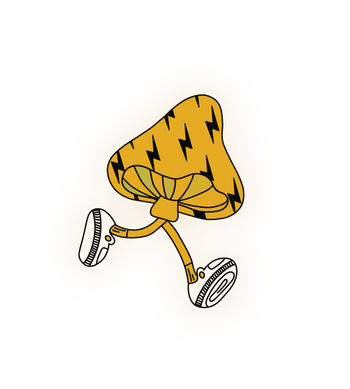 Looking to replace your coffee habit?
Look no further. I'm here to help supercharge your energy.
I've invited a few of my fungi powerhouses Cordyceps and Lion's Mane to the party. Their plus ones? Some real nice-looking superfood eye candy.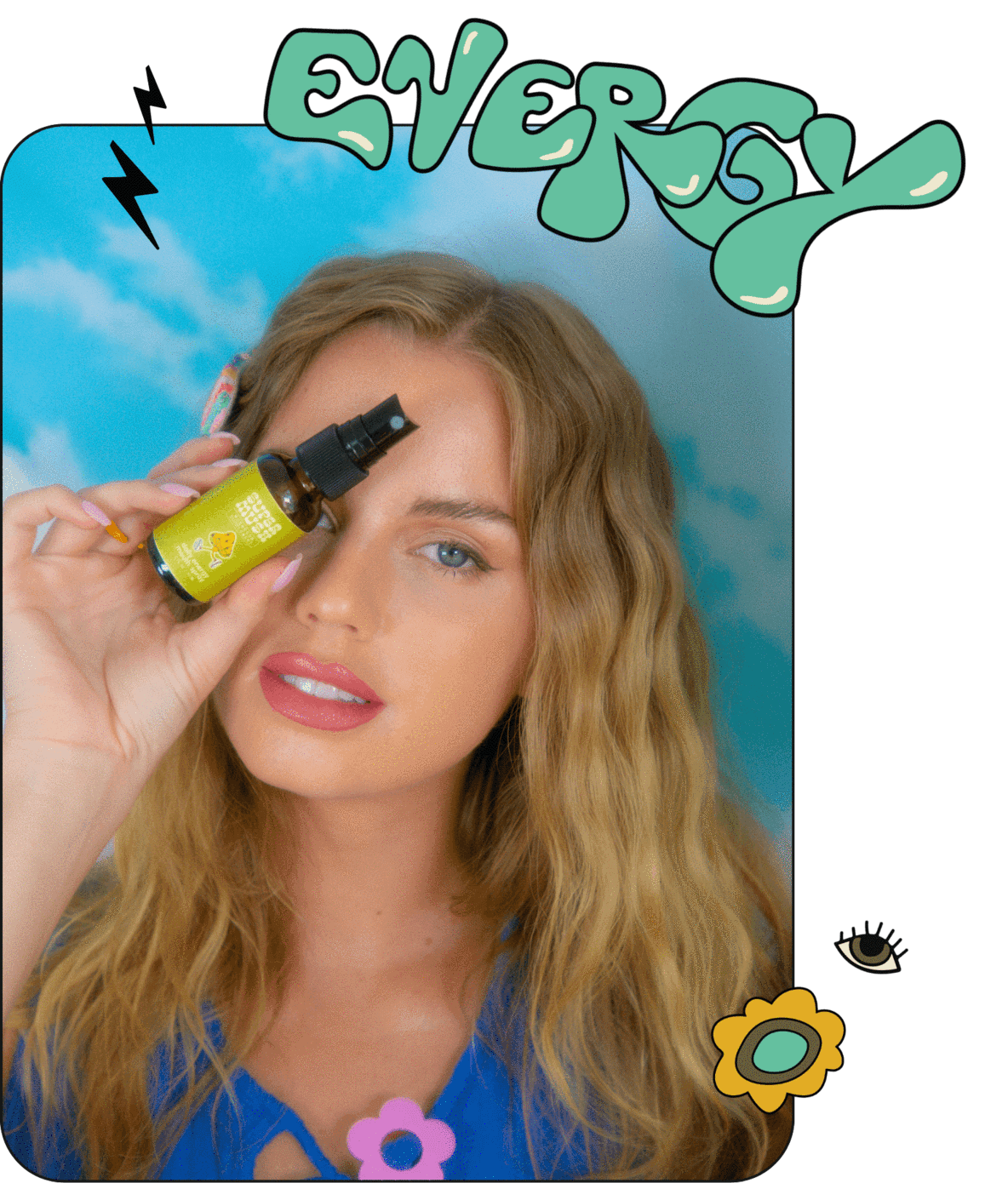 Ingredients
Meet the stars of the show, the fun(gi) stuff that makes us magic. Don't worry, I won't get you high on anything but life.

Cordyceps
supports natural energy levels and endurance
supports oxygen intake and lung capacity
helps to manage occasional stress and fatigue in the body**

Lion's Mane
traditionally used to support digestion
promotes mental functioning and cognition
nourishes healthy immune and cerebral systems

Rhodiola
helps the body to adapt to occasional stress and fatigue
used to help lift mood
promotes improved exercise performance

Green Tea
helps to lift mood and focus
immune boosting capabilities
offers a clean potent energy boost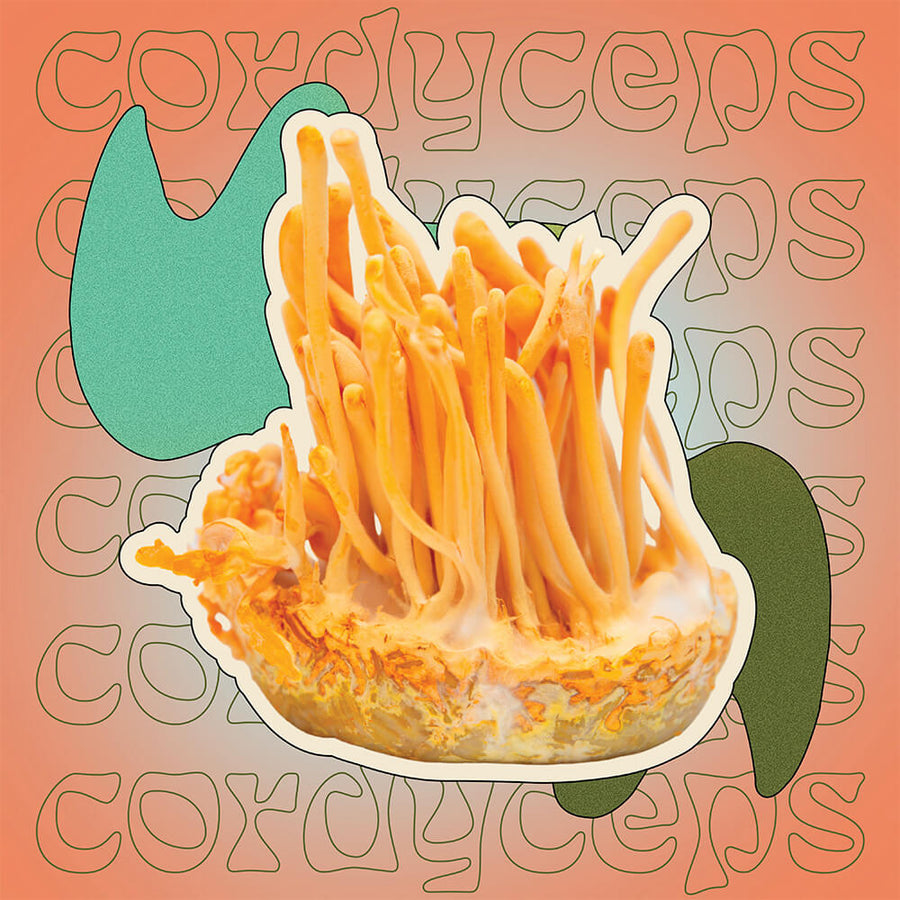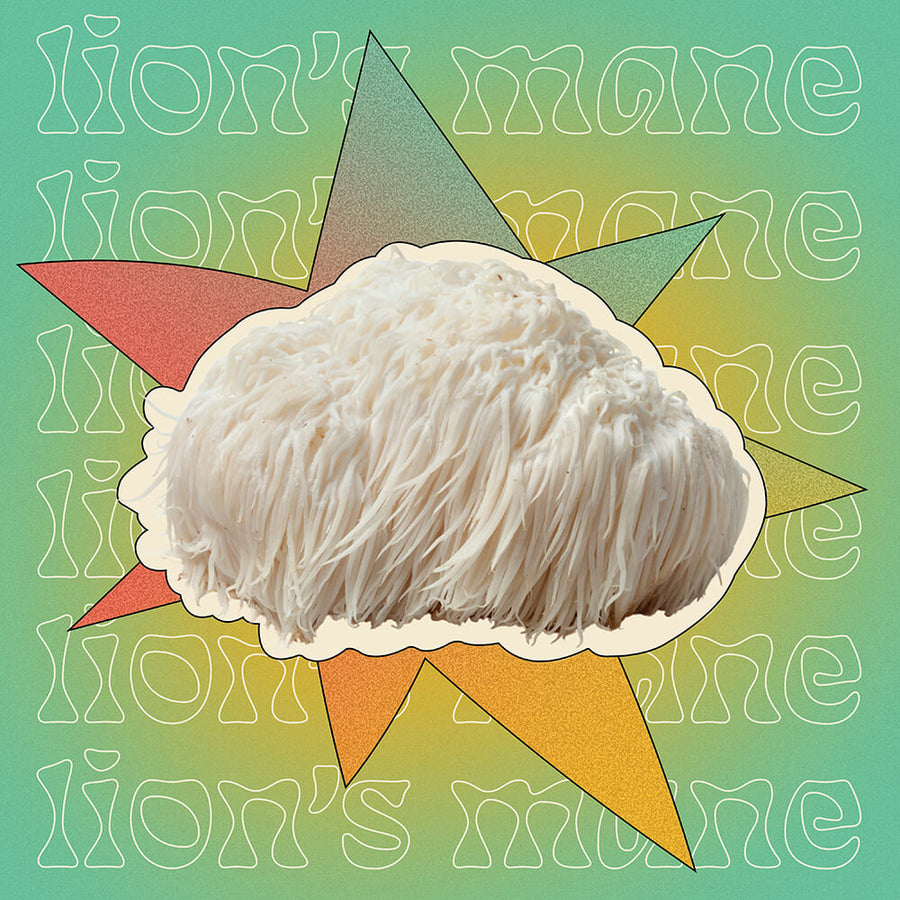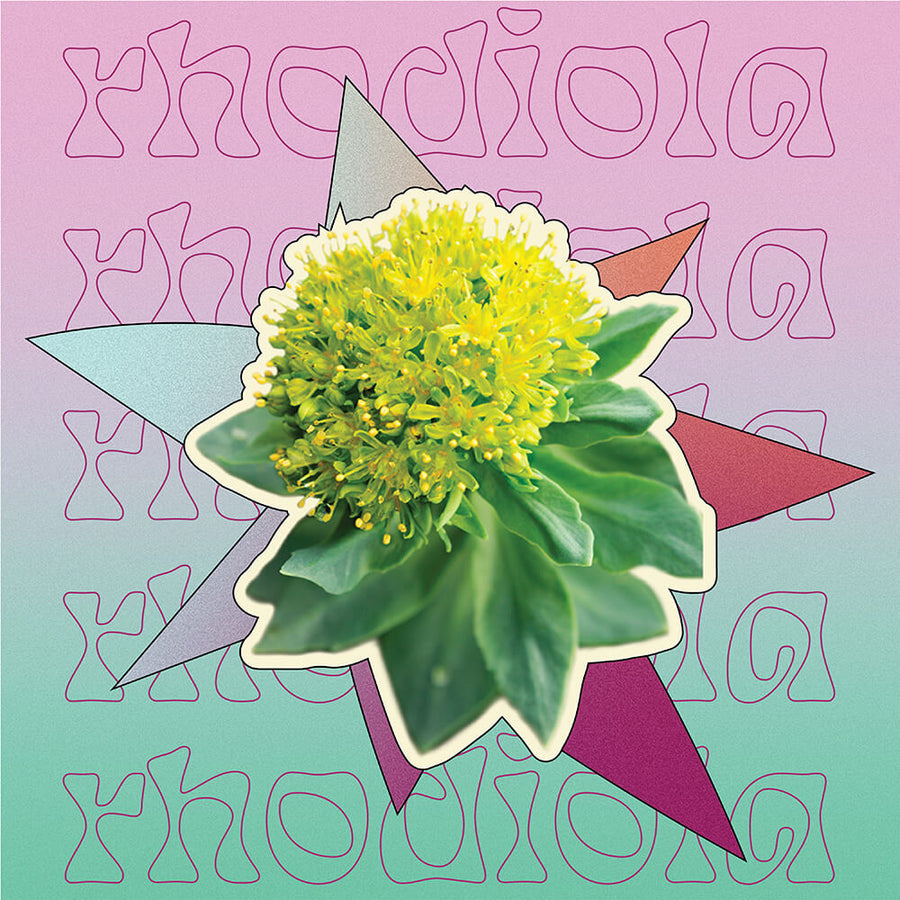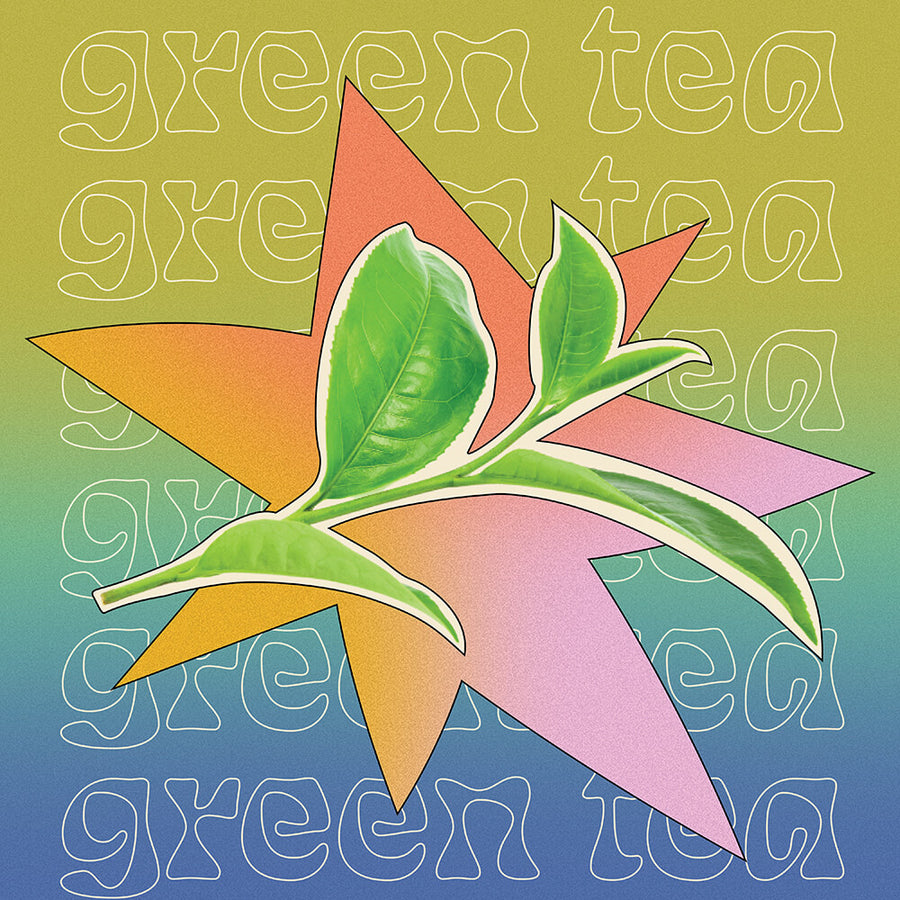 How to use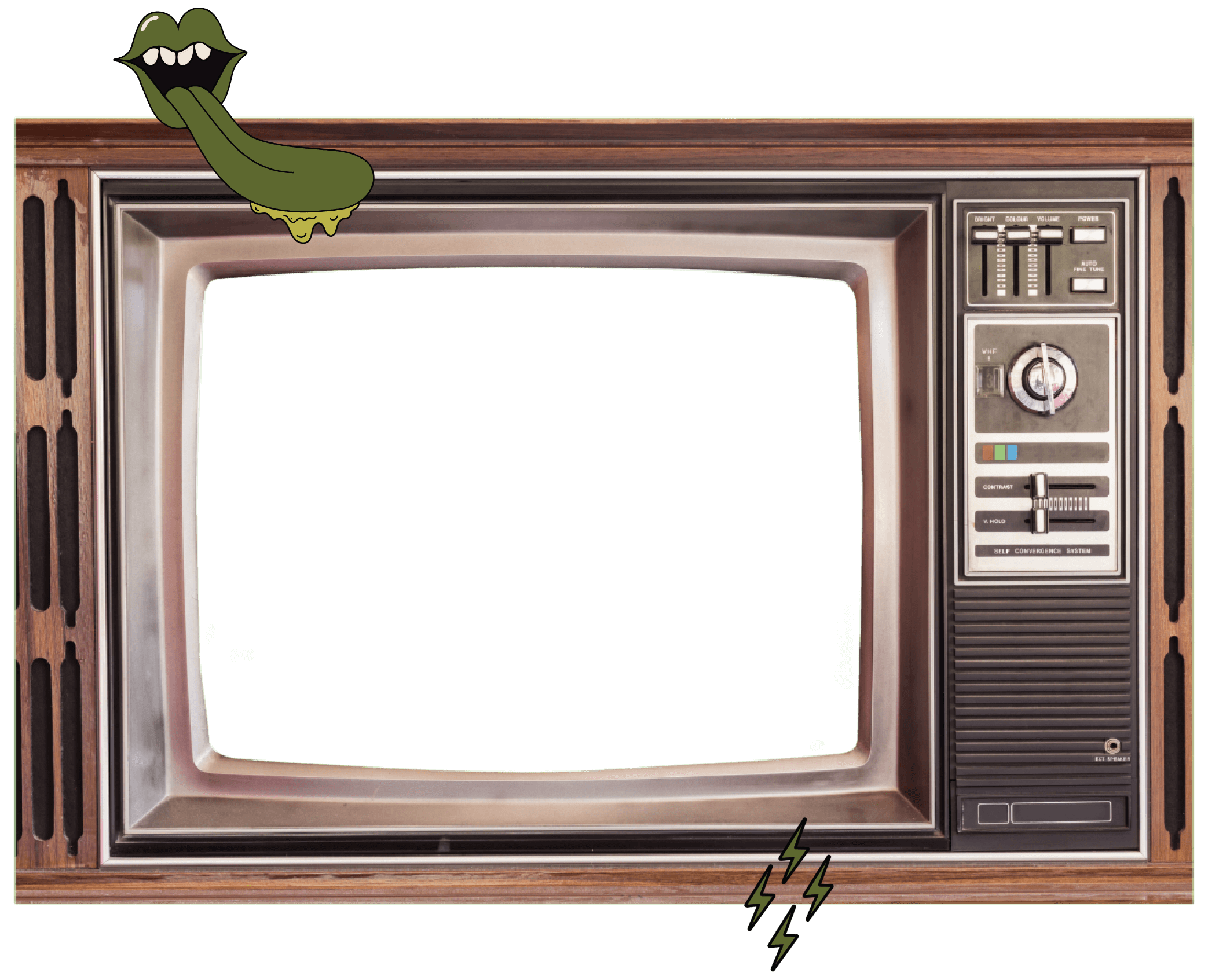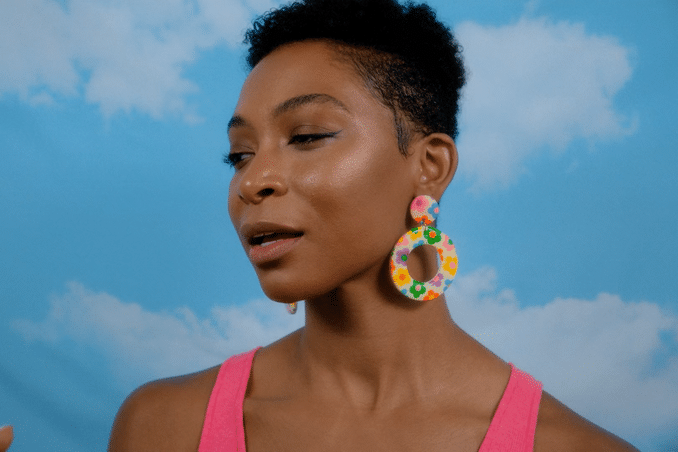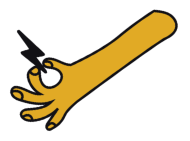 How to use
Spray four times on your tongue, and swallow.
Use me in the morning before breakfast, repeat as many times as your heart desires throughout the day.
FAQs
Does this product have caffeine?
SuperMush makes you feel a lot of things, but jittery isn't on the list. There is a small amount of caffeine from the Green Tea extract, but for reference—30 servings would be equivalent to ~one cup of green tea. You can expect a smooth, clean burst of energy that will allow for optimal focus and performance.
When/how should I use SuperMush Energy?
Step 1: Shake me up baby. For the best flavor, shake and spray a few times into sink before initial use.

Step 2: Hold one inch away from your mouth and spray four times on your tongue

Step 3: Use me daily (or whenever your heart desires) and feel the good vibrations.

P.S. I thrive on your tongue, but you can also spritz me on sparkling beverages, smoothies, teas, and more.
What does this taste like?
4 sprays on your tongue will give you a mouthwatering taste of tangerine crush. Try a spritz of SuperMush on top of your latte, cocktail, or smoothie for extra flavor.
When will I feel the effects of SuperMush?
You'll feel all the good vibrations almost immediately. My tiny spray droplets allow for immediate absorption into the mucosal layers of your throat and cheeks.
Can I take too much SuperMush?
Although tempting, we don't recommend spraying an entire bottle in your mouth in one sitting. SuperMush is safe to use in any quantity, but as always, listen to that body of yours.
Can I take SuperMush Daily Energy Mouth Spray with other caffeine products?
Yes, in fact – SuperMush is filled with adaptogens to work synergistically with your body to adapt to whatever you throw at it. Any jitters from regular caffeine products can sometimes be smoothed over by the effects of SuperMush. So go ahead, get wild. While SuperMush loves new friends, make sure to consult a physician if you're unsure.
I think I like it?
I think it "works " with regular use. I've definitely felt a boost of energy in the middle of the day after using for 2+ weeks, but you don't feel immediate effects before then (if that). I wish the potency was a little higher. I think that would help me know for certain if the product is actually working.
mushy energy is the best
I love this spray. I think I'm addicted!
BEST SPRAY EVER!
Love the taste and it REALLY works! Gives me a lift and a boost of energy every time
Energy buddy
This little bottle is a very useful tool.